| | |
| --- | --- |
| 1. | Rub around the ears: use the index or middle fingers to knead in front and back of the ears, and then rub forcefully around the ears about 40 times. |
| 2. | Wipe the auricles: use the thumbs and index fingers to hold the edges of the auricles, pinch along the edges softly about 30 times to get them warm. |
| 3. | Tap the inner ears: cover the ears with the palms, then flick the index fingers with the middle fingers so that they hit just behind the ear to create a booming sound; do this 20 times. |
| 4. | Rub the ear front: use the thumbs or index fingers to press in front of ears, rub forcefully 30 times until a feeling of warmth is achieved. |
This massage can enhance hearing, and relieve ear problems.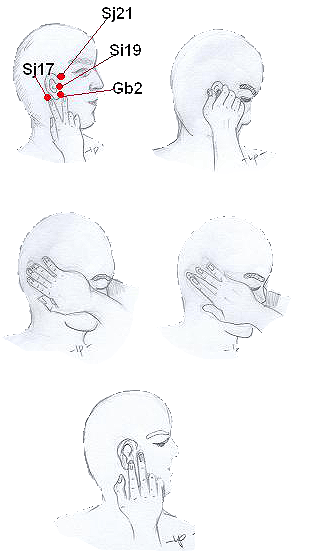 Massage to promote the ear region