According to the location of lesions in the brain and spinal column, multiple sclerosis can present in various ways. The neural symptoms include difficulty speaking, blurred vision, double vision, weakness and heaviness of one or both legs, jerking of the legs, numbness or tingling and incoordination. Some individuals may only show vague signs like vertigo, incontinence, urinary urgency or frequency, vomiting, diarrhea and impotence. If the nervous system keeps on degenerating, symptoms will progressively worsen.
TCM practitioners usually begin with a full investigation of the individual and then categorize his or her symptoms under syndrome groups known as "disharmony patterns." In addition to the symptoms discussed above, TCM practitioners also focus on associated symptoms for syndrome differentiation. The disharmony patterns, which present at different stages of the disease, generally indicate the degree of disharmony of the body and the involved organs as well as the progress of the disease.
Meridian obstruction by phlegm and heat
After onset of fever, individuals develop sudden limb weakness, numbness or paralysis. Associated symptoms include distended headache, irritability, chest tightness, ear ringing or blurred vision. In some cases, there may be sudden blindness, thirst without the desire to quench it, speaking difficulties, yellow sticky secretions in the throat, and even urinary difficulty.
Damp-heat dissemination
This leads to a gradual development of limb weakness which is obvious in the lower limbs as well as numbness and a slight puffiness in the limbs. Other symptoms include tightness in the forehead, generalized heaviness, sallow complexion, abdominal distention, depression, decreased vision, diarrhea and yellowish urine.
Blood stasis accumulated in meridian
This leads to limb weakness with numbness, tingling or contracting pain; other symptoms are dizziness, ear ringing, sallow complexion, muscular atrophy, urinary difficulty or dribbling after voiding, double vision or even blindness.
Deficiencies in lung and spleen
This leads to slow and progressive development of limb weakness, unsteadiness, tremor and muscular atrophy in the lower limbs. Other associated symptoms include pale complexion, poor appetite, abdominal distention, diarrhea, and aversion to wind; there is also a tendency to catch cold or flu, dizziness, inability to void urine, blurred version or even blindness.
Deficiencies in liver and kidney
Individuals present with general paralysis, weight loss, unsteadiness, clumsiness, facial distortion, soreness in lumbar and knee regions. Associated symptoms include dizziness, vertigo, blurred version, throat dryness, constipation, ear ringing, fatigue, depression, speaking difficulty, urinary difficulty, as well as hot sensations in the palms, soles and chest.
Depletion of kidney yang
Individuals present with general paralysis, numbness, muscular atrophy, clumsiness, unsteady steps, blurred version or dropping of upper eyelids, declined hearing, difficulties in swallowing and speaking. Other accompanying symptoms include dizziness, limbs coldness, fatigue and sleepiness, sensitivity to cold temperatures, poor appetite, urinary frequency and diarrhea.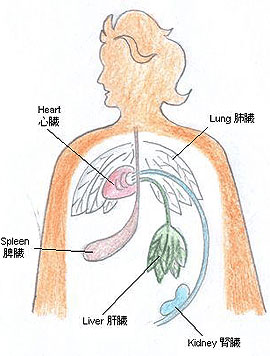 Illustration of TCM organs