Headaches are generally divided into different types, some of them such as tension headache, migraine, and post-traumatic headache tend to be chronic and recurrent, which are lifelong conditions. Although the chronic headaches cause substantial personal suffering or impaired quality of life, they are usually not fatal and the prognoses are guarded. However, if not treated properly and linger for too long, the original simple headache may develop into a mixed headache, manifesting as persistent pain all over the head accompanied with paroxysmal aggravation. At that time, pain medications have no effect on the complicated situations anymore. It is important for headache sufferers to seek professional diagnosis and treatment, and avoid mismanagement. Traditional Chinese medical (TCM) can be a treatment option for headaches; it reduces the frequency and severity of headaches, and promotes the healing of headaches.
Chinese health advice on headaches

Food is essentially for providing nutrients and energy to support life. Our daily diet should have a wide variety of food selections, and should be consumed in appropriate amount and combination, so that the basic nutrient requirements of the body can be secured. In headache disorders especially migraine, there are many dietary advice from the experts, food triggers reported by the sufferers themselves or others. The importance of dietary triggers is over-emphasized. If you know you are sensitive to certain foods, it may be proper to watch out for them. However, excessive dietary restrictions do not favor your headache condition as well as the treatment. Contrary to popular belief, the only dietary triggers with evidential support are alcohol and monosodium glutamate.
Headache triggers vary from people to people. Besides foods, physical constitution, life habits, environmental factors and mental state can all contribute to headaches. Lifestyle modifications are important to reduce the frequency and severity of headaches. From a TCM viewpoint, headaches are the result of interaction between external and internal factors. Headache sufferers not only should recognize the triggers, but also know their physical constitutions or headache types, so that they can take more extensive protective measures. Below are TCM suggestions that help improve headache management.
| | |
| --- | --- |
| TCM headache types | Health advice |
| Wind-cold | Enhance immune function to reduce risk of catching common cold and flu; wear a hat during chilly and windy weathers |
| Wind-heat | Avoid exposure to strong sunlight |
| Liver-yang | Maintain a calm state of mind and control anger; keep regular sleeping habits; avoid staying in strong sunlight or high temperatures; prevent the body from overheating and stop drinking alcohol |
| Phlegm and dampness | Keep the living place ventilated and dry, and avoid staying in humid environments. Since most of the sufferers have weakened spleen and stomach, they should maintain a simple and light diet, and also eat more foods such as coix seed, glabrous greenbrier rhizome (tu fu ling), red rice bean, wax gourd, corn silk and carp. The ingredients help resolve phlegm and eliminate dampness in the body |
| Qi, blood or kidney deficiency | Do not overstrain the body or become mentally exhausted; eat warming and nourishing foods regularly; (see recipes below) |
| Blood stasis | Prevent head injuries; maintain a calm state of mind and control anger; do not drink alcohol |
| | | | | |
| --- | --- | --- | --- | --- |
| | | | | |
| Coix seed | | Glabrous greenbrier rhizome | | Corn silk |
Chinese food recipes to ease headaches

In China, it is a cultural heritage for the housewives to cook food and herbs together, and serve them in regular family meals, either as main dishes, appetizers, drinks, porridges or soups. It aims to strengthen the body, promote health and prevent diseases through the therapeutic and regulating actions of diet. There are many old sayings about food and herb, such as "food and herbs share the same origin" and "diet incorporated with healing." TCM food therapy has a long history, abundant theoretical and empirical support, it is still widely popular among the general public today. Each Chinese family would keep folk recipes that using common ingredients make simple yet nutritious medicinal diet, serving as an important way to relieve common ailments and promote health. Chinese food therapy is designed according to syndrome differentiation, which based on the physical constitution or health needs of an individual. Medicinal diet is often provided along with routine treatments to promote healing and ensure a quick recovery, which are particular beneficial to chronic conditions. The recipes for different headaches are introduced as follows:
Wind-cold headaches
Herbal fish head soup

Ingredients

Sichuan lovage (6g), Dahurian angelica root (6g) and a big fish head (about 500g), proper amount of green onion, fresh ginger, salt and pepper

Method

Clean the fish head and discard the gills, chop into half and sprinkle inside out with salt. Rinse the herbs, cut the ginger in thumb size, and slice the green onion. Heat some cooking oil in a large deep saucepan, fry the ginger until fragrant, put in the fish head and fry for another 2 minutes, pour in 1000ml of boiling water and add the herbs. Lower the heat, cover and simmer for about 40 minutes. Add salt and pepper to taste, turn off the heat and sprinkle with green onion. Serve hot, drink the soup and eat the meat.

Benefits

Activate blood and qi (vital energy), relieve headaches, replenish brain marrow and warm the stomach
Sichuan lovage tea

Ingredients

Sichuan lovage (10g), tea leaf (10g), and 2 pieces of green onion stalk (with roots)

Method

Rinse the ingredients, and boil with 800ml of water for 20 minutes.

Benefits

Disperse coldness, promote the flow of yang qi and relieve headaches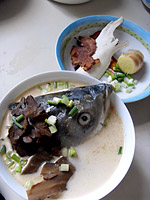 Fish head soup
Wind-heat headaches
Hawthorn and honeysuckle tea

Ingredients

Hawthorn fruit (10g), honeysuckle flower (15g), and honey (100g)

Method

Rinse the two herbs, boil with 300ml of water for 15 minutes, pour out the liquid and then boil with same amount of water for second time. Mix the liquid together and add honey to taste. Serve warm.

Benefits

Clear heat and toxic, regulate qi (vital energy) and relieve pain
Sichuan lovage tea

Ingredients

Sichuan lovage (6g) and tea leaf (12g)

Method

Rinse the Sichuan lovage and pound slightly, place it and the tea leaf in a cup, pour in boiling water and soak for 10 minutes. Serve warm.

Benefits

Clear heat, promote qi flow and relieve pain
Agastache and lotus leaf congee

Ingredients

Agastache (10g), dried lotus leaf (30g), rice 100g and proper amount of rock sugar

Method

Decoct the first two herbs with 500ml of water for 20 minutes, keep the solution and discard the residues. Pour the solution in a deep saucepan, add 1500 ml of water, bring to a boil and then add in the rice, lower the heat and simmer until it turns into a thick soup. Turn off the heat and add rock sugar to taste. Serve in the morning and evening.

Benefits

Clear heat, dispel dampness and arrest pain, which is suitable for ailments in summer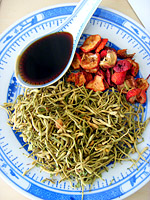 Hawthorn fruit, honeysuckle
flower and honey
Liver yang headaches
Herbal steamed fish

Ingredients

Tall gastrodia tuber (15g), Sichuan lovage (10g), poria (10g) and a carp (around 1000g), proper amount of green onion, fresh ginger, salt and rice wine

Method

Scale the carp and remove the organs, sprinkle inside out with salt, rice wine and ginger juice; rinse the herbs and slice them, stuff the ingredients inside the carp, steam under high heat for 20 minutes, discard the herbs, heat up some cooking oil a small pan, add ginger and green onion slices to the hot oil and fry for 10 seconds, pour over the fish and serve.

Benefits

Pacify the liver, calm the spirit, activate blood and relieve pain
Chrysanthemum, lotus leaf and hawthorn tea

Ingredients

Chrysanthemum (10g), dried lotus leaf (12g) and hawthorn fruit (30g)

Method

Rinse the ingredients, and boil with 800ml of water for 30 minutes.

Benefits

Pacify the liver, promote qi flow and relieve pain
Nutgrass and lovage tea

Ingredients

Nutgrass rhizome (3g), Sichuan lovage (10g) and tea leaf (3g)

Method

Rinse the first two herbs and pound slightly, place them and the tea leaf in a cup, pour in boiling water, let the ingredients soak for 10 minutes. Serve warm.

Benefits

Soothe the liver, regulate qi flow, activate blood and relieve pain, which are suitable for headaches due to emotional stress and menstruation
Turbid phlegm headaches
Herbal congee

Ingredients

Dahurian angelica root (9g), poria (20g), dried tangerine peel (9g), coix seed (30g) and rice (30g)

Method

Decoct the first three herbs with 500ml of water for 20 minutes, keep the solution and discard the residues. Pour the solution in a deep saucepan, add 2000 ml of water, bring to a boil and then add in the rice and coix seed, lower the heat and simmer until it turns into a thick soup. Serve in the morning and evening.

Benefits

Invigorate the spleen, resolve phlegm, smooth digestive process and relieve pain
Cassia seed and kelp tea

Ingredients

Cassia seed (10g) and dried kelp (20g)

Method

Rinse the ingredients, and boil with 2000ml of water for 45 minutes. Serve in the morning and evening.

Benefits

Pacify the liver, resolve phlegm and accumulations
Blood stasis headaches
Lovage, angelica and hawthorn drink

Ingredients

Sichuan lovage (15g), angelica root (10g), fresh hawthorn fruit (50g) and sugar

Method

Rinse the ingredients, double-steam with 350ml of water for one hour, add sugar to taste. Drink the soup and eat hawthorn fruit, serve for 5-6 days.

Benefits

Activate blood, resolve stasis, unblock meridian and relieve pain
Lovage and safflower tea

Ingredients

Sichuan lovage (6g), Chinese safflower (3g) and tea leaf (3g)

Method

Rinse the ingredients, and boil with 500ml of water for 20 minutes.

Benefits

Activate blood and qi, refresh the mind and relieve pain
Qi and blood deficient headaches
Herbal chicken stew

Ingredients

Astragalus root (30g), Dahurian angelica root (9g), black-bone chicken (half, around 500g), proper amount of green onion, fresh ginger, salt and rice wine

Method

Chop the chicken in large pieces, marinate the meat with ginger, soy sauce, sugar and rice wine for 30 minutes; rinse the herbs; heat some cooking oil in a pot, fry the ginger and green onion until fragrant, put in the meat and fry slightly, add in 1000ml of water, bring to a boil for 15 minutes, add in the herbs, lower the heat and simmer for one hour. Drink the soup and eat the meat.

Benefits

Invigorate the spleen, replenish blood and qi
Longan and egg soup

Ingredients

Longan (60g, dried and unpeeled), 2 eggs and sugar

Method

Rinse the longans and eggs, boil with 1000ml of water for 10 minutes, peel the eggs and continuous to boil under low heat for about one hour, add sugar to taste. Eat the eggs and drink the soup.

Benefits

Nourish yin and blood, soothe the heart and calm the spirit
Mung bean porridge

Ingredients

Mung bean (100g), Siberian solomonseal rhizome (50g) and brown sugar

Method

Decoct the Siberian solomonseal rhizome with 500ml of water for 20 minutes, keep the solution and discard the residues. Pour the solution in a deep saucepan, add 1500 ml of water, bring to a boil and then add in the mung beans, lower the heat and simmer one hour, add brown sugar to taste. Serve in the morning and evening.

Benefits

Nourish yin and blood, invigorate the spleen and replenish qi
Longan and Chinese date tea

Ingredients

Longan aril (50g) and Chinese red dates (50g)

Method

Rinse the ingredients, and boil with 600ml of water for 20 minutes.

Benefits

Replenish qi and harmonize blood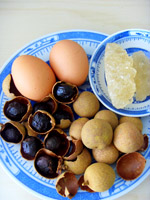 Dried longan fruit, eggs and
rock sugar
Kidney deficient headaches
Ginseng and walnut congee

Ingredients

Ginseng (3g), walnut (30g), rice (100g) and sugar

Method

Grind the ginseng into a powder; crush the walnuts; boil 2000ml of water in a deep saucepan, bring to a boil and put in all the ingredients, lower the heat and simmer until it turns into a thick soup, add sugar to taste. Serve in the morning and evening.

Benefits

Replensih qi, invigorate the kidney, strengthen yang and relieve pain
Herbal mutton stew

Ingredients

Sichuan lovage (15g), notoginseng (6g), angelica root (12g), Chinese wolfberry (15g), mutton (500g), proper amount of green onion, fresh ginger, pepper and rice wine

Method

Rinse the herbs; cut the mutton into pieces, blanch the meat in boiling water and drain; heat some cooking oil in a pot, fry the ginger and green onion until fragrant, put in the meat and fry for one minute, add in 1000ml of water, bring to a boil for 15 minutes, add in the herbs, lower the heat and simmer for one hour, add salt, pepper and rice wine to taste. Drink the soup and eat the meat.

Benefits

Replenish essence, nourish blood, invigorate the kidney and relieve pain
Herbal congee

Ingredients

Processed rhemannia rhizome (15g), Chinese wolfberry (20g), chrysanthemum (5g), rice (100g) and rock sugar

Method

Decoct the rhemannia rhizome with 500ml of water for 20 minutes, keep the solution and discard the residues. Pour the solution in a deep saucepan, add 1500 ml of water, bring to a boil and then add in the rice, lower the heat and simmer until it turns into a thick soup, add in the wolfberry and simmer for another 10 minutes. Place the chrysanthemum in a cup, pour in boiling water and soak for 10 minutes, mix the solution with the congee, add sugar to taste. Serve in the morning and evening.

Benefits

Invigorate the liver and kidney, nourish yin and blood, refresh the mind and promote vision
Double steamed pig's brain

Ingredients

Chinese yam (30g), Chinese wolfberry (30g), a pig's brain and proper amount of fresh ginger, pepper and rice wine

Method

Rinse the pig's brain and remove the thin layer on the surface, put the brain in a bowl, marinate with salt, rice wine, pepper and ginger juice for 30 minutes; rinse the herbs and put in the bowl, add 300ml of water in the bowl, double-steam under high heat for 90 minutes. Drink the soup and eat the brain. The amount can serve for twice.

Benefits

Nourish the liver and kidney, invigorate the middle burner and replenish blood