Herbal prescriptions

|

Home care advice
Bruises or red blood spots under the skin are caused by broken and bleeding blood vessels underneath the surface. Blood leaks into the surrounding tissues, and results in tiny red or purple dots (petechiae), or a large area of purple patches (purpura) or a widespread area of bruise marks (ecchymosis). The affected skin lesion is flat and do not blanch when pressed upon.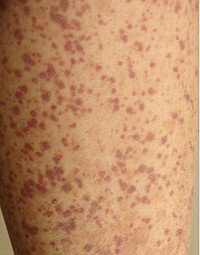 Bruises or red blood spots are caused
by broken and bleeding blood vessels
underneath the skin surface.
Easy bruising is not always a matter for concern and will go away on their own, women are more prone to bruising than men, it is also common among the elderly. A tendency to bruise easily runs in families sometimes, however, sudden bruising or blood spots under the skin without an obvious reason, or an increase in the frequency of bruising may indicate a health problem. You should see a doctor right away, so as to prevent serious complications and even the risk of loss of life. Possible causes for abnormal bleeding under the skin include:
| | |
| --- | --- |
| | Medications such as aspirin or blood thinners, chemotherapy drugs or certain diabetes drugs; |
| | Allergic reactions such as insect bites; |
| | Autoimmune disorders such as idiopathic thrombocytopenic purpura (ITP), SLE, and rheumatoid arthritis; |
| | Infections that cause the buildup of toxin in the blood such as meningococcemia; |
| | Bleeding or clotting disorders such as hemophilia and thrombocytopenia (low platelet counts); |
| | Conditions that affect blood clotting such as cirrhosis or kidney failure; |
| | Cancers such as Hodgkin's disease, leukemia or multiple myeloma; |
| | Malnutrition such as deficiencies of vitamins C, K, B12 or folic acid. |
Medical treatment for bleeding under the skin should always address to the underlying cause, as well as prevent or stop for further bleeding.
According to traditional Chinese medicine (TCM), bleeding under the skin occurs when the body has the following changes:
| | |
| --- | --- |
| | Heat accumulates in the blood that causes reckless blood flow; |
| | Spleen weakness or qi deficiency that makes the body unable to retain the blood within the vessels, in other words, the blood vessels become fragile and prone to rupture. |
| | Blood stasis formation that results in blockage and blood fluid leaks into the surrounding tissues. |
TCM claims that the above pathological changes can be resulted from a variety of internal or external reasons, which make bleeding under the skin become a common symptom in conditions such as traumatic injuries, blood disease, bone marrow dysfunction, liver dysfunction, pregnancy complications, acute infectious diseases and poisoning.
TCM has extensive experience in treating bleeding under the skin; the remedies are designed to target on the involved internal system, clear specific pathological factors, and arrest bleeding on specific locations. Generally, the therapeutic results are comprehensive and aimed at the overall condition of the body that not just relieve the bleeding symptom, but also help activate blood regeneration, regulate immune system, promote homeostasis and reduce the risk of recurrent bleeding. In case if the cause of abnormal bruises or purple patches on the skin remains unknown after thorough examination and testing, you may consult a TCM specialist and try Chinese medicine methods for relief.
Practically, when TCM physicians consider an appropriate therapeutic strategy, they usually take account of the Western medical diagnostic results to design an effective course of treatment. It is advisable to find a qualified physician who properly understands both Western and Chinese medicine modalities, so that he or she is capable of integrating the advantages of these two medical practices.
| | | | | |
| --- | --- | --- | --- | --- |
| | | | | |
| India madder rhizome | | schizonepeta herb | | red peony root |
1. Herbal prescriptions for bleeding under the skin
When examining and diagnosing patients with bleeding under the skin, physicians look for details like degree of bleeding, color of skin rash, acute or chronic nature, duration, any other bleeding locations and the accompanying symptoms, and age as well. Below are common disharmony patterns that involve bleeding under the skin.
Toxic wind attacking blood vessels
A sudden appearance of purple-colored spots and patches on the skin; there may also have wheals, swelling, itchiness and abdominal pain. The pulse is floating. Individuals usually have an allergic history of certain foods or drugs. The remedy should aim to disperse wind, resolve toxic, harmonize blood and smooth the flow of blood vessels.
Sample prescription: Modified Four Substances Disperse Wind Drink
Heat in blood system
The skin develops a large area of red or purple-colored spots and patches in sudden, there may accompany with nose bleeding, gum bleeding, blood in the stool, or bloody urine. Individuals may also have fever, thirst and constipation. The tongue is deep red and covered by yellow coating, and the pulse is rapid. The remedy should aim to clear blood system, cool blood and arrest bleeding.
Sample prescription: Rhinoceros Horn Rehmannia Decoction plus figwort root, arnebia root and hairyvein agrimonia herb
Qi deficiency failing to retain blood
Intermittent or recurrent episodes of pink or dark purple-colored spots and patches on the skin, and the situation is aggravated by physical overstrain. Individuals usually have a prolonged health problem that causes them general weakness or malaise, other signs may include dizziness, blurred vision, breath shortness, a pale or sallow complexion, and a low appetite. The tongue is pale, and the pulse is thready and weak. The remedy should aim to replenish qi and reinforce its ability to astringent blood, invigorate spleen and nourish blood.
Sample prescription: Restore the Spleen Decoction plus hairyvein agrimonia herb, donkey-hide gelatin, charred palm and India madder rhizome
Yin deficiency leading to virtual fire
The skin has red or purple-colored spots and patches that may become aggravated and alleviated from time to time; individuals often accompany with nosebleed, gum bleeding or heavy menstruation, red cheeks, irritability, insomnia, thirst, warm palms and soles, and even hot flushes and night sweats. The tongue is red with little coating, and the pulse is thready and rapid. The remedy should aim to nourish yin, subdue virtual fire, cool blood and arrest bleeding.
Sample prescription: Rehmannia Pill Plus Anemarrhena and Corktree Bark plus India madder rhizome, oriental arborvitae leafy-twig and arnebia root
Blood stasis obstruction
Purple-colored spots and patches on the skin that occurs gradually and in recurrent episodes, individuals may also have nosebleeds, bloody stool, and menstrual flow with clots. Other signs may include squamous skin, lusterless and darkish complexion, fixed pain in the chest or abdominal regions, and mouth dryness. The tongue is dark-purplish or has purple spots on it, there may also have varicose veins under it, and the pulse is hesitant. The remedy should aim to promote qi flow, resolve stasis, harmonize blood vessels and arrest bleeding.
Sample prescription: Remove Stasis in the Blood System Decoction plus flying squirrel dung and cattail pollen
It should be noted that bleeding under the skin may vary from person to person, and that the above patterns can appear alone or in complex form. An experienced physician is needed to ensure an accurate diagnosis and proper treatment. In addition, after the bruises or skin rashes disappeared, consolidation therapy is necessary to prevent recurrence.
| | | | | |
| --- | --- | --- | --- | --- |
| | | | | |
| flying squirrel dung | | figwort root | | arnebia root |
2. Home care advice for bleeding under the skin
Individuals with a tendency to bleed into the skin should maintain a healthy lifestyle, including regular sleep schedule, stable emotional state, and proper balance between work and rest. The following steps help reduce the associated complications and prevent further bleeding:
| | |
| --- | --- |
| | Be careful in using OTC products, and always consult your doctor before taking any medication or supplement. |
| | Do not smoke, smoking decreases blood supply and delays tissue repair. |
| | Be alert for any signs of infection, and take protective measures in cold and flu season. |
| | Limit alcohol consumption, as excessive alcohol affects blood flow and clotting. |
| | Avoid intense physical activities so as to reduce the risk of injury and bleeding. |
| | Eat a wide variety of foods to avoid dietary deficiencies. Since vitamins C, K, or B12, or folic acid are essential for blood clotting, the daily meals should include proper amount of whole-grain cereals and grain products, fresh vegetables and fruits, daily products, eggs, beans and peas. |
In TCM viewpoint, abnormal bleeding is mostly due to heat in the blood that results in a reckless blood flow or vessel damages. Spicy, hot and greasy foods can easily create heat inside the body, thus they should be limited. Some cooling foods are beneficial such as stem lettuce, loofah, lotus root, peanut skin, chestnut, water chestnut, eggplant, lily flower, white fungus, black fungus and couch grass rhizome. For persistent and chronic cases, the body needs extra nutrients to combat the complications caused by bleeding, and individuals are suggested to eat according to their disharmony patterns. For example, qi deficiency should eat more Chinese yam, red dates, beef, quail and glutinous rice; yin deficiency should eat more pears, lotus root, wolfberry, mulberry fruit, milk, egg yolk, black chicken, rabbit and duck meat. With appropriate combination and cooking methods, diet can serve as tonics to speed healing and relieve the accompanying symptoms. Below are simple recipes for different patterns of bleeding under the skin.
| | | | | |
| --- | --- | --- | --- | --- |
| | | | | |
| mung bean and coix seed | | peanut and red date | | black fungus |
| | |
| --- | --- |
| | Mung bean (50g), coix seed (30g) and rice (30g). Boil the ingredients with 1000ml water, bring to a boil first and then lower the heat and simmer for one hour. Add rock sugar to taste, serve warm. This porridge promotes the body to expel heat and toxin, and induces urination, which are suitable for disharmony of heat in blood system. |
| | Fresh peppermint (10g) and lotus root juice (100ml), boil the peppermint with 250ml water for 15 minutes, turn off the heat, and pour in the lotus juice. Lotus root helps stop bleeding and resolve stasis; peppermint clears wind and heat pathogens on the body surface. This drink is suitable for acute attack of bleeding under the skin. |
| | Peanut (50g, with the skin) and Chinese red dates (50g, stone removed). Boil with 500ml water for 30 minutes, add brown sugar to taste and serve warm. The ingredients replenish blood and stop bleeding, which are suitable for various types of bleeding. |
| | Lotus root (1000g), sugar cane (500g), pear (500g), fresh rehmannia root (120g) and water chestnut (500g), peel and squeeze the ingredients to make a juice. Lotus root can clear heat, stop bleeding and resolve stasis; sugar cane promotes the production of body fluids, smoothes qi flow and aids in digestion; pear calms the mind, nourishes lungs, resolves phlegm and arrests coughing; rehmannia root nourishes yin and cools blood; water chestnut clears the accumulated heat inside the body. This drink is suitable for disharmony of yin deficiency leading to virtual fire. |
| | Dried black fungus (5g), Chinese red dates (5 pieces) and rice (100g). Soak the fungus in warm water for 30 minutes, wash and discard the woody parts, and cut into pieces. Boil 1500ml water with a saucepan, bring to a boil, add in the ingredients, lower the heat and simmer until the liquid thickens. Turn off the heat, add rock sugar to taste, and serve warm. Eat in the morning and at night before sleep. The ingredients nourish yin and enrich blood, which are suitable for disharmony of yin deficiency. |
| | Glutinous rice (100g) and donkey-hide gelatin (15g, crushed). Boil the glutinous rice with 1500ml water, use medium fire and cook until the liquid thickens, then add in the donkey-hide gelatin, stir to help it melt completely in the porridge, cook for 30 minutes more. Add brown sugar to taste and serve warm. The ingredients nourish yin and enrich blood, which are suitable for disharmony of yin deficiency. |
| | Lamb shank bones (1000g, chopped), Chinese red dates (10 pieces, stone removed), and glutinous rice (50g). Place the bones in a pot, boil with 2000ml water, bring to a boil, skim the froth on the surface, add in the other ingredients, lower the heat and simmer until the liquid thickens. Turn off the heat, add salt and pepper to taste, and serve warm. The lamb bone warms and strengthens the spleen and kidneys, the red date replenishes qi (vital energy) and nourishes blood, and the glutinous rice enhances the spleen and stomach, and promotes qi production. This porridge is suitable for disharmony of spleen weakness and qi deficiency. |
| | Dried longan aril (15g), Chinese red dates (5g), American ginseng (15g, ground in powder), and rice (100g). Boil 1500ml water with a saucepan, bring to a boil, add in the ingredients, then lower the heat and simmer until the liquid thickens. Turn off the heat, add rock sugar to taste, and serve warm. The ingredients can strengthen spleen and enhance the production of blood and qi, which are suitable for disharmony of spleen weakness and qi deficiency. |