Prevention and early detection are very important factors in controlling and curing colorectal cancer. Several factors have been identified which play a role in the risk and development of colorectal cancer. They include; age, colorectal polyps, diet, family history, genetics (heredity), and inflamatory bowel disease.
Age
Colorectal cancer occurs most frequently after the age of 50. The average age at diagnosis is 60-65. The risk of colorectal cancer increases after the age of 40 and up to the eight or ninth decade of life.
Colorectal Polyps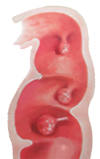 Polyps in the colon
The presence of colorectal polyps can increase the risk for colorectal cancer. Polyps are benign growths in the colon and rectum but they can become cancerous over time. Approximately 30% of people in their 50's develop polyps; the occurrence of polyps increases to about 50% in people in their 70's. Not all polyps will become cancerous only about 5% of all polyps will become cancerous. It can take 5-10 years for a polyp to become cancerous.
Diet
The incidence of colorectal cancer is highest in countries where meat is a major part of the diet and fruits, vegetables and fiber are a small part of the diet. The Western diet is high in animal fats and low in fiber. Diets in underdeveloped countries tend to be rich in fibers from fruits, vegetables and grains, and low in fat. Studies have shown that meat and fat consumption increase the risk of colorectal cancer. It is thought that dietary fats produce cancer-causing substances when they are digested.
Family History and Genetics
Having a first-degree relative (parent, sibling, or child) has been shown to increase one's risk of colorectal cancer 2-4 fold. There are other genetic conditions that are associated with an increased risk for colorectal cancer. They include familial adenomatous polyposis (FAP) and Garner's Syndrome which are inherited conditions. Patients with these conditions develop hundreds of polyps in their colon and rectum. The polyps can become cancerous and persons affected with these conditions have nearly a 100% risk of developing colorectal cancer if left untreated.
Inflammatory Bowel Disease
Ulcerative colitis is a condition associated with an increased incidence of colorectal cancer. Patients who have ulcerative colitis have a 30-fold increase in risk. The duration of disease appears to be linked with the increased risk for colorectal cancer. Patients have a 3% increase in risk of developing colorectal cancer after 10 years of active disease and the risk increases to over 30% with 30 years of active disease.